Governance in Blockchain Technologies & Social Contract Theories
Keywords:
Social contract, Hobbes, Rousseau, Blockchain
Abstract
This paper is placed in the context of a growing number of social and political critiques of blockchain technologies. We focus on the supposed potential of blockchain technologies to transform political institutions that are central to contemporary human societies, such as money, property rights regimes, and systems of democratic governance. Our aim is to examine the way blockchain technologies canbring about - and justify - new models of governance. To do so, we draw on the philosophical works of Hobbes, Rousseau, and Rawls, analyzing blockchain governance in terms of contrasting social contract theories. We begin by comparing the justifications of blockchain governance offered by members of the blockchain developers' community with the justifications of governance presented within social contract theories. We then examine the extent to which the model of governance offered by blockchain technologies reflects key governance themes and assumptions located within social contract theories, focusing on the notions of sovereignty, the initial situation, decentralization and distributive justice.
References
Alexander, R. "The First Blockchain Wedding." Bitcoinmagazine (accessed 3 December 2015) https://bitcoinmagazine.com/articles/first-blockchain-wedding-2-1412544247
Barton, P. Bitcoin and the Politics of Distributed Trust (Senior Thesis). Swarthmore College (2015)
Binmore, K. Game Theory and the Social Contract (3rd ed.) Cambridge, Massachusetts: Massachusetts Institute of Technology 355 (1998)
Bitnation. "Governance 2.0: borderless, decentralized, voluntary." Bitnation (accessed 18 July 2016) https://bitnation.co/main/
Buterin, V. "A next-generation smart contract and decentralized application platform." Ethereum 1–36 (2014) http://buyxpr.com/build/pdfs/EthereumWhitePaper.pdf
Buterin, V. "DAOs, DACs, DAs and More: An Incomplete Terminology Guide." Ethereum (accessed 12 July 2016) https://blog.ethereum.org/2014/05/06/daos-dacs-das-and-more-an-incomplete-terminology-guide/
Buterin, V. "Vitalik Buterin: Cryptoeconomic Protocols In the Context of Wider Society." Youtube (accessed 26 January 2016) https://www.youtube.com/watch?v=S47iWiKKvLA
Chuen, D. L. K. Handbook of digital currency: Bitcoin, Innovation, Financial instruments, and Big Data. Handbook of Digital Currency. London: Elsevier Inc. (2015) http://doi.org/10.1016/B978-0-12-802117-0.09989-6
Chung, H. "Hobbes's State of Nature: A Modern Bayesian Game-Theoretic Analysis." Journal of the American Philosophical Association 1.3 485-508 (2015)
Coeckelbergh, M., Reijers, W. "Crypto currencies as narrative technologies." SIGCAS Computers & Society, 45.3 172-178 (2015)
Dodd, N. "On Simmel's Pure Concept of Money: a Response to Ingham." European Journal of Sociology 48.2 273-294 (2007)
DuPont, Q. "The Politics of Cryptography: Bitcoin and The Ordering Machines." Journal of Peer Production 1.4 1–10 (2014)
Dupont, Q., Maurer, B. "Ledgers and Law in the Blockchain." Kings Review (23 June 2015) http://kingsreview.co.uk/magazine/blog/2015/06/23/ledgers-and-law-in-the-blockchain/
Ethereum. "About the Ethereum Foundation" (accessed 25 January 2016) https://www.ethereum.org/foundation
Ethereum. "What is Ethereum?" Etherscripter (accessed December 3 2015) http://etherscripter.com/what_is_ethereum.html
Fargo, S. "The economics of Bitcoin Mining." Insidebitcoins.com (accessed 26 January 2016) http://insidebitcoins.com/news/the-economics-of-bitcoin-mining-centralization/31833
Golumbia, D. "Bitcoin as Politics: Distributed Right-Wing Extremism." In Moneylab Reader: An Intervention in Digital Economy. Amsterdam: Institute of Network Cultures 117–131 (2015)
Hobbes, T. Leviathan. London: Andrew Crooke (1651)
Ihde. D. Postphenomenology and Technoscience. New York: Sunny Press (2009)
Inston, K. Rousseau and Radical Democracy. London: Continuum International Publishing Group (2010)
Karlstrøm, H. "Do libertarians dream of electric coins? The material embeddedness of Bitcoin." Distinktion: Scandinavian Journal of Social Theory 15.1 29 (2014) http://doi.org/10.1080/1600910X.2013.870083
Kavanagh, D., Miscione, G. "Bitcoin and the Blockchain: A coup d'état in Digital Heterotopia?" In Critical Management Studies Conference. Leicester (2015)
Kostakis, V., Giotitsas, C. "The (A)Political Economy of Bitcoin." tripleC: Journal for a Global Sustainable Information Society 12.2 431-440 (2014)
Nakamoto, S. "Bitcoin: A Peer-to-Peer Electronic Cash System." No publisher. 1 (2008) https://bitcoin.org/bitcoin.pdf
No Author. "Ethereum wiki." Github (accessed 28 November 2015) https://github.com/ethereum/wiki/wiki
Nozick, R. Anarchy, State and Utopia. Oxford: Blackwell Publishing (1974)
O'Dwyer, R. "The Revolution will (not) be Decentralized: Blockchains." Commons Transition (2015)
Rawls, J. A Theory of Justice. Cambridge, Massachusetts: Harvard University Press (1971)
Reutzel, B. "The DAO Shows Blockchain Can't Code Away Social Problems." Coindesk (accessed 18 July 2016) http://www.coindesk.com/system-problems-social-issues-daos-structure/
Roio, D.J. "Bitcoin, the End of the Taboo on Money." Dyne.org digital press (April 2013) https://files.dyne.org/readers/Bitcoin_end_of_taboo_on_money.pdf
Rousseau, J.-J. The Social Contract and Discourses. London: Everyman (1762)
Schejter, A. & Yemini, M. "Justice, and Only Justice, You Shall Pursue: Network Neutrality, the First Amendment and John Rawls's Theory of Justice." Michigan Telecommunications and Technology Law Review 14.1 137-174 (2007).
Scott, B. "Visions of a Techno-Leviathan: The Politics of the Bitcoin Blockchain." E-International Relations (accessed 16 July 2016) http://www.e-ir.info/2014/06/01/visions-of-a-techno-leviathan-the-politics-of-the-bitcoin-blockchain/
Skyrms, B. Evolution of the Social Contract. Cambridge: Cambridge University Press (1996)
Simmel, G. The Philosophy of Money (3rd ed.). New York: Routledge Classics (1900)
Simon, Y., Kuic, V. "A Note on Proudhon's Federalism." Publius 3.1 19-30 (1973)
Swan, M. Blockchain: Blueprint for a New Economy Sebastopol: O'Reilly Media Inc (2015)
Winner, L. "Do artifacts have politics?" Daedalus 109.1 121-136 (1980)
Wood, G. "Ethereum: A Secure Decentralised Generalised Transaction Ledger," Ethereum Project Yellow Paper. Gavwood (accessed 28 November 2015) http://gavwood.com/Paper.pdf
Wright, A., De Filippi, P. "Decentralized Blockchain Technology and the Rise of Lex Cryptographia." Social Science Research Network 2580664 (2015) http://papers.ssrn.com/abstract=2580664
Yarvin, C. "The DAO as a lesson in decentralized governance." Urbit (accessed 18 July 2016) https://urbit.org/blog/dao/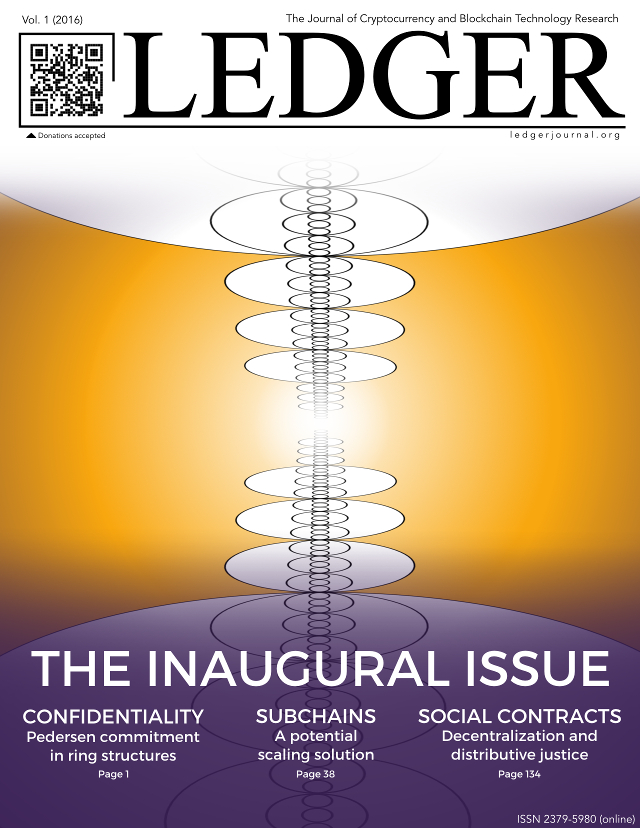 Downloads
Additional Files
How to Cite
Reijers, W., O'Brolcháin, F., & Haynes, P. (2016). Governance in Blockchain Technologies & Social Contract Theories. Ledger, 1, 134–151. https://doi.org/10.5195/ledger.2016.62
Section
Research Articles
License
Authors who publish with this journal agree to the following terms:
The Author retains copyright in the Work, where the term "Work" shall include all digital objects that may result in subsequent electronic publication or distribution.
Upon acceptance of the Work, the author shall grant to the Publisher the right of first publication of the Work.
The Author shall grant to the Publisher and its agents the nonexclusive perpetual right and license to publish, archive, and make accessible the Work in whole or in part in all forms of media now or hereafter known under a Creative Commons Attribution 4.0 International License or its equivalent, which, for the avoidance of doubt, allows others to copy, distribute, and transmit the Work under the following conditions:

Attribution—other users must attribute the Work in the manner specified by the author as indicated on the journal Web site;

with the understanding that the above condition can be waived with permission from the Author and that where the Work or any of its elements is in the public domain under applicable law, that status is in no way affected by the license.
The Author is able to enter into separate, additional contractual arrangements for the nonexclusive distribution of the journal's published version of the Work (e.g., post it to an institutional repository or publish it in a book), as long as there is provided in the document an acknowledgement of its initial publication in this journal.
Authors are permitted and encouraged to post online a prepublication manuscript (but not the Publisher's final formatted PDF version of the Work) in institutional repositories or on their Websites prior to and during the submission process, as it can lead to productive exchanges, as well as earlier and greater citation of published work. Any such posting made before acceptance and publication of the Work shall be updated upon publication to include a reference to the Publisher-assigned DOI (Digital Object Identifier) and a link to the online abstract for the final published Work in the Journal.
Upon Publisher's request, the Author agrees to furnish promptly to Publisher, at the Author's own expense, written evidence of the permissions, licenses, and consents for use of third-party material included within the Work, except as determined by Publisher to be covered by the principles of Fair Use.
The Author represents and warrants that:

the Work is the Author's original work;
the Author has not transferred, and will not transfer, exclusive rights in the Work to any third party;
the Work is not pending review or under consideration by another publisher;
the Work has not previously been published;
the Work contains no misrepresentation or infringement of the Work or property of other authors or third parties; and
the Work contains no libel, invasion of privacy, or other unlawful matter.

The Author agrees to indemnify and hold Publisher harmless from Author's breach of the representations and warranties contained in Paragraph 6 above, as well as any claim or proceeding relating to Publisher's use and publication of any content contained in the Work, including third-party content.
The Author agrees to digitally sign the Publisher's final formatted PDF version of the Work.
Revised 7/16/2018. Revision Description: Removed outdated link.