Enhancing Electronic Voting With A Dual-Blockchain Architecture
Keywords:
electronic voting, blockchains, consensus algorithms
Abstract
Voting is one of the most fundamental aspects of democracy. Over the past few decades, voting methods around the world have expanded from traditional paper ballot systems to electronic voting (e-voting), in which votes are written directly to computer memory. Like any computer system, voting machines are susceptible to technical vulnerabilities that open up opportunities for hackers to tamper with votes, causing the use of electronic voting technology to raise concerns about ballot security. We describe how electronic voting can be supported by blockchain technology to ensure voter secrecy, vote correctness, and equal voting rights. In this paper, we present a system using two separate blockchains, each with separate transactions and consensus algorithms. We describe a prototype implementation that validates our ideas by executing several proof-of-concept simulations of a range of voting scenarios.
References
Agbesi, S., Asante, G. "Electronic Voting Recording System Based on Blockchain Technology." In 2019 12th CMI Conference on Cybersecurity and Privacy (CMI) 1–8 (2019) https://doi:org/10:1109/CMI48017:2019:8962142.
Appel, A. W. "Effective Audit Policy for Voter-Verified Paper Ballots." American Political Science Association (accessed 19 January 2021) https://www:cs:princeton:edu/~appel/papers/appel-nj-audits:pdf.
Barnes, A., Brake, C., Perry, T. "Digital Voting with the Use of Blockchain Technology." The Economist (accessed 1 March 2018) https://www:economist:com/sites/default/files/plymouth:pdf.
Castro, M., Liskov, B. "Practical Byzantine Fault Tolerance." In Proceedings of the Third Symposium on Operating Systems Design and Implementation 173-186 (1999) https://doi:org/10:5555/296806:296824.
Cucurull, J., Rodrıguez-Perez, A., Finogina, T., Puiggali, J. "Blockchain-Based Internet Voting: Systems' Compliance with International Standards." In BIS 2018 International Workshops Springer Nature Switzerland AG 300–312 (2019) https://doi:org:/10:1007/978-3-030-04849-527.
Goel, U., Ruhl, R., Zavarsky, P. "Using Healthcare Authority and Patient Blockchains to Develop a Tamper-Proof Record Tracking System." In 2019 IEEE 5th Intl Conference on Big Data Security on Cloud (BigDataSecurity), IEEE Intl Conference on High Performance and Smart Computing, (HPSC) and IEEE Intl Conference on Intelligent Data and Security (IDS) 25–30 (2019) https://doi:org/10:1109/BigDataSecurity-HPSC-IDS:2019:00016.
Hardwick, F. S., Akram, R. N., Markantonakis, K. "E-Voting With Blockchain: An E-Voting Protocol with Decentralisation and Voter Privacy." 2018 IEEE International Conference on Internet of Things (iThings) and IEEE Green Computing and Communications (GreenCom) and IEEE Cyber, Physical and Social Computing (CPSCom) and IEEE Smart Data (SmartData) 1561–1567 (2018) https://doi:org/10:1109/Cybermatics 2018:2018:00262.
Hjalmarsson, F., Hreidarsson, G., Hamdaqa, M., Hjalmtysson, G. "Blockchain-Based E-Voting System." In Proceedings of 2018 IEEE 11th International Conference on Cloud Computing 983–986 (2018) https://doi:org/10:1109/CLOUD:2018:00151.
Jefferson, D., Rubin, A., Simons, B., Wagner, D. "Analyzing Internet Voting Security." Communications of the ACM 47.10 59–64 (2004) https://doi:org/10:1145/1022594:1022624.
Khan, K. M., Arshad, J., Khan, M. M. "Investigating Performance Constraints for Blockchain Based Secure E-Voting Systems." Future Generation Computer Systems 105 13–26 (2020) https://doi:org/10:1016/j:future:2019:11:005.
Kirby, K., Masi, A., Maymi, F. "Votebook, A Proposal for a Blockchain-Based Electronic Voting System." The Economist (2016) https://www:economist:com/sites/default/files/nyu:pdf.
Kshetri, N., Voas, J. "Blockchain-Enabled E-Voting." IEEE Software 35.4 95–99 (2018) https://doi:org/10:1109/MS:2018:2801546.
Lee, K., James, J. I., Ejeta, T. G., Kim, H. J. "Electronic Voting Service Using Block-Chain." The Journal of Digital Forensics, Security and Law 11.8 (2016) https://doi:org/10:15394/jdfsl:2016:1383.
Lee, K., James, J. I., Ejeta, T. G., Kim, H. J. "Electronic Voting Service Using Block-Chain." The Journal of Digital Forensics, Security and Law 11.8 (2016) https://doi:org/10:15394/jdfsl:2016:1383.
Liang, W., Lei, X., Li, K.-C., Fan, Y., Cai, J. "A Dual-Chain Digital Copyright Registration and Transaction System Based on Blockchain Technology." Communications in Computer and Information Science 1156 (2020) https://doi:org/10:1007/978-981-15-2777-7 57.
Lightman, A., Gu, E., Huang, K., Hao, C. "Dualchain Whitepaper." Metaverse Foundation (accessed 2 January 2021) https://mvsdna:com/MVS Dualchain White Paper-v:1:00:pdf.
Moore, L., Sawhney, N. "Under the Hood: The West Virginia Mobile Voting Pilot." (2019) https://blog:voatz:com/wp-content/uploads/2019/02/West-Virginia-Mobile-Voting-White-Paper-NASS-Submission:pdf.
Moura, T., Gomes, A. "Blockchain Voting and its Effects on Election Transparency and Voter Confidence." In dg.o '17: Proceedings of the 18th Annual International Conference on Digital Government Research 574–575 (2017) https://doi:org/10:1145/3085228:3085263.55.
No Author. "UniLect Patriot (and VMR 138)." verifiedvoting.org (accessed 7 April 2019) Page no longer available at original address, archived at https://web:archive:org/web/20200807000332/https://verifiedvoting:org/resources/voting-equipment/unilect/patriot/.
Oostveen, A.-M., Besselaar, P. v. d. "Security as Belief: User's Perceptions on the Security of Electronic Voting systems." In A. Prosser, R. Krimmer (Eds.), Electronic Voting in Europe - Technology, Law, Politics and Society, Workshop of the ESF TED Programme Together with GI and OCG Bonn: Gesellschaft fur Informatik e.V. 73–82 (2004) https://dl:gi:de/handle/20:500:12116/29131.
Park, S., Narula, N., Rivest, R. L. "Going from Bad to Worse: From Internet Voting to Blockchain Voting." MIT (2020) https://people:csail:mit:edu/rivest/pubs/PSNR20:pdf.
Racsko, P. "Blockchain and Democracy." Society and Economy 41.3 353–369 (2019) https://doi:org/10:1556/204:2019:007.
Rivest, R. L., Stark, P. B. "When Is an Election Verifiable?" IEEE Security and Privacy 15.3 48–50 (2017) https://doi:org/10:1109/msp:2017:78.
Ryan, P. Y., Bismark, D., Heather, J., Schneider, S., Xia, Z. "Prˆet `a Voter: A Voter-Verifiable Voting System." IEEE Transactions on Information Forensics and Security 4.4 662–673 (2009) https://doi:org/10:1109/TIFS:2009:2033233.
Schwartz, D. "The Inherently Decentralized Nature of XRP Ledger." (2018) https://ripple:com/insights/the-inherently-decentralized-nature-of-xrp-ledger/.
Schwartz, D., Youngs, N., Britto, A. "The Ripple Protocol Consensus Algorithm." arXiv (2018) https://arxiv:org/abs/1802:07242.
Selker, T., Cohen, S. "An Active Approach to Voting Verification." MIT (accessed 17 January 2021) https://dspace:mit:edu/handle/1721:1/96565.
Vijayalakshmi, V., Vimal, S. "A Novel P2P Based System with Blockchain for Secured Voting Scheme." In 2019 Fifth International Conference on Science Technology Engineering and Mathematics (ICONSTEM) 153–156 (2019) https://doi:org/10:1109/ICONSTEM:2019:8918895.
Wagner, A. "Can Blockchain-Enabled Voting Meet Security and Secrecy Standards?" Chicago Policy Review (online) (2019) https://chicagopolicyreview:org/2019/04/09/can-blockchain-enabled-voting-meet-security-and-secrecy-standards/.
Yi, H. "Secure E-Voting Based on Blockchain in P2P Network." EURASIP Journal on Wireless Communications and Networking 137 (2019) https://doi:org/10:1186/s13638-019-1473-6.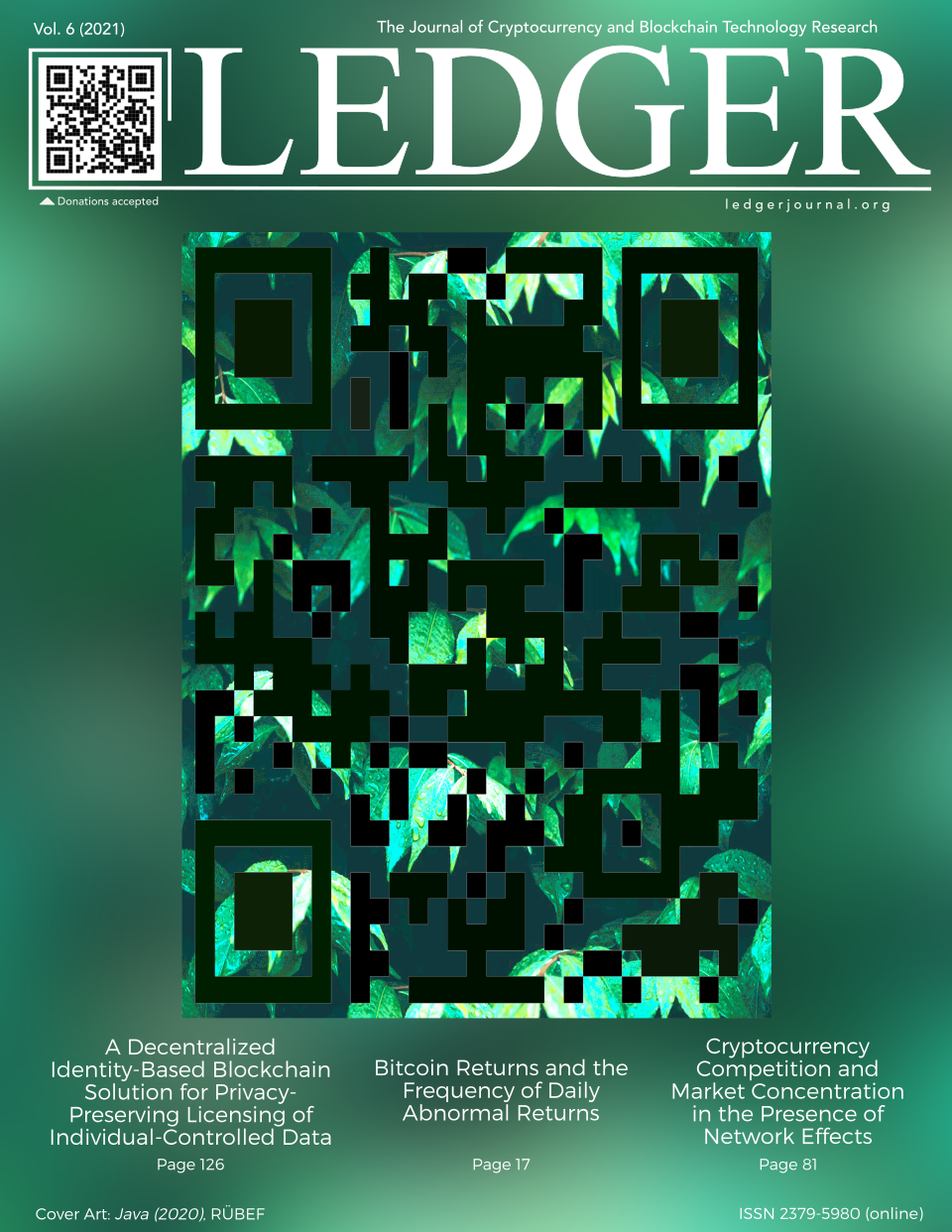 Downloads
Additional Files
How to Cite
Leune, K., & Punjwani, J. (2021). Enhancing Electronic Voting With A Dual-Blockchain Architecture. Ledger, 6. https://doi.org/10.5195/ledger.2021.199
Section
Research Articles
License
Authors who publish with this journal agree to the following terms:
The Author retains copyright in the Work, where the term "Work" shall include all digital objects that may result in subsequent electronic publication or distribution.
Upon acceptance of the Work, the author shall grant to the Publisher the right of first publication of the Work.
The Author shall grant to the Publisher and its agents the nonexclusive perpetual right and license to publish, archive, and make accessible the Work in whole or in part in all forms of media now or hereafter known under a Creative Commons Attribution 4.0 International License or its equivalent, which, for the avoidance of doubt, allows others to copy, distribute, and transmit the Work under the following conditions:

Attribution—other users must attribute the Work in the manner specified by the author as indicated on the journal Web site;

with the understanding that the above condition can be waived with permission from the Author and that where the Work or any of its elements is in the public domain under applicable law, that status is in no way affected by the license.
The Author is able to enter into separate, additional contractual arrangements for the nonexclusive distribution of the journal's published version of the Work (e.g., post it to an institutional repository or publish it in a book), as long as there is provided in the document an acknowledgement of its initial publication in this journal.
Authors are permitted and encouraged to post online a prepublication manuscript (but not the Publisher's final formatted PDF version of the Work) in institutional repositories or on their Websites prior to and during the submission process, as it can lead to productive exchanges, as well as earlier and greater citation of published work. Any such posting made before acceptance and publication of the Work shall be updated upon publication to include a reference to the Publisher-assigned DOI (Digital Object Identifier) and a link to the online abstract for the final published Work in the Journal.
Upon Publisher's request, the Author agrees to furnish promptly to Publisher, at the Author's own expense, written evidence of the permissions, licenses, and consents for use of third-party material included within the Work, except as determined by Publisher to be covered by the principles of Fair Use.
The Author represents and warrants that:

the Work is the Author's original work;
the Author has not transferred, and will not transfer, exclusive rights in the Work to any third party;
the Work is not pending review or under consideration by another publisher;
the Work has not previously been published;
the Work contains no misrepresentation or infringement of the Work or property of other authors or third parties; and
the Work contains no libel, invasion of privacy, or other unlawful matter.

The Author agrees to indemnify and hold Publisher harmless from Author's breach of the representations and warranties contained in Paragraph 6 above, as well as any claim or proceeding relating to Publisher's use and publication of any content contained in the Work, including third-party content.
The Author agrees to digitally sign the Publisher's final formatted PDF version of the Work.
Revised 7/16/2018. Revision Description: Removed outdated link.